Wedding Ice Cream Bike Hire, Sweet Carts, Trikes & Tandem
Planning your dream wedding? why not have an authentic vintage wedding ice cream tricycle serve you and your guests in style as an extra unique attraction? The Ice Dream Experience covers all of the UK but primarily the North West. This includes: Lancashire (Blackpool & The Fylde, Lancaster & Morecambe, Clitheroe & The Ribble Valley); Yorkshire (Harrogate, York & Leeds); Cheshire; Cumbria (Windermere, Keswick & The Lake District); Liverpool, Merseyside & The Wirral plus Greater Manchester. Where guest numbers are high we also attend North Wales, the North East, the Midlands and London.
We have 2 Ice Dream Experiences; Vintage and Traditional for you to choose from, starting at £345. Plus an extra bit of fun with our Wedding Tandem Experience.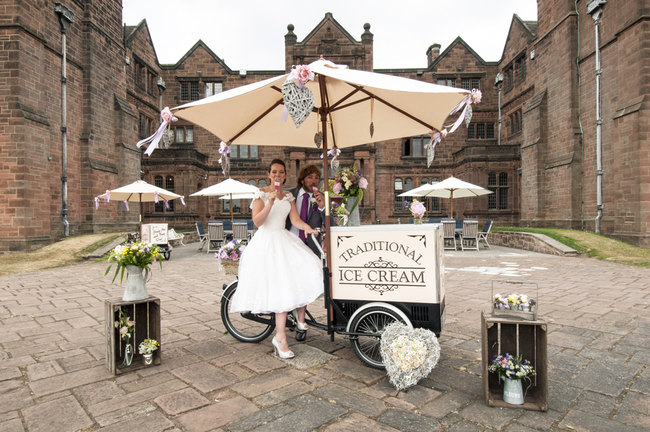 See also our Other Services page for our new Sweet Trike/Candy Cart (pictured below) together with our other long standing favourites: Giant Garden Games, Wishing Wells and Wedding Post Boxes.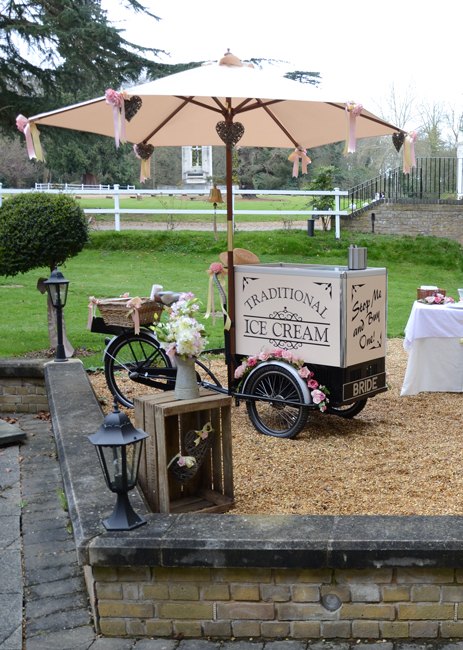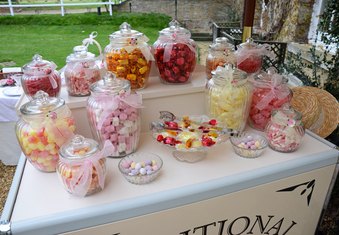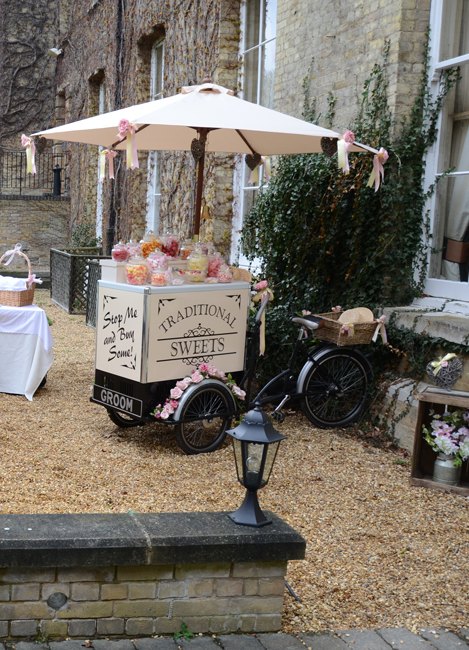 2022/23 Scoop!: Book a Traditional Sweet Trike with Ice Cream Tricycle and get £25.00 off!
ICE DREAM EXPERIENCES
All our Experiences include the following:
Choice of Tricycle colour: Cream is most popular but we also have Pink, Blue, Red & Green

Choose from 20 flavours of delicious ice cream plus seasonal limited edition flavours

One decorated Ice Cream Tricycle in your chosen colour scheme or theme (for large weddings, additional tricycles can be provided)

One or more serving representatives in traditional costume to serve you and your guests

Quality hand-made real dairy ice cream, locally produced with only the best ingredients

Quality waffle cones made locally, a far superior (and tastier) alternative to cheap wafer cones

Additional boater hats of different sizes can be made available for your own photograph opportunities by request (includes smaller sizes for children)

Choice of authentic vintage number plate(s) mounted on your tricycle(s) to suit the occasion

Parasol 'twinkle' lights added for evening receptions
Wedding Catering For Larger Guest Numbers
We believe wedding receptions of 150 guests or more served from one cart can have its limitations. The likely-hood is a long queue will form and no one likes to queue too long… especially for ice cream! Our solution… we can bring additional tricycles – this considerably reduces queueing times. In addition, it gives you the opportunity to have a matching pair of trikes or a 'His 'n' Hers' option. Either way, two bikes make for a well balanced display to really 'Wow' your guests and is of course twice the fun too!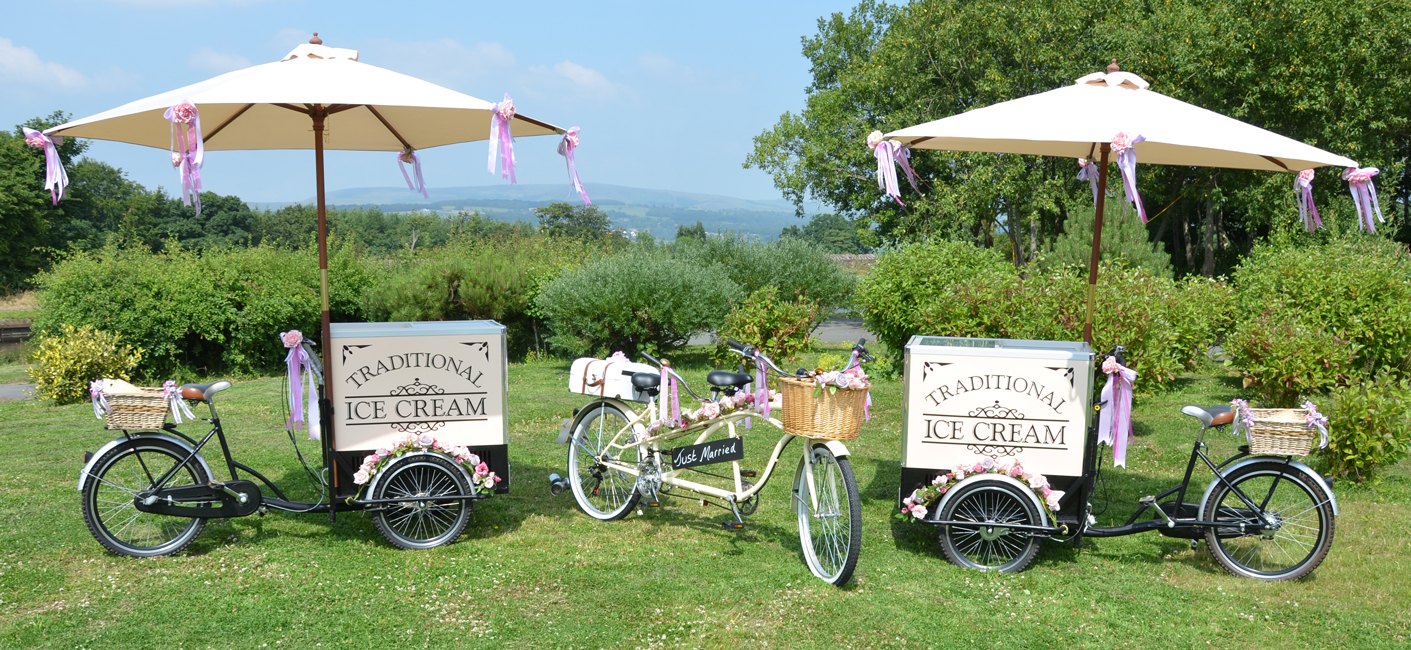 We do not have company logo's, phone numbers or web site details on any of our wedding bikes. They are completely unbranded on purpose to truly look the part in your photographs. For evening serves we light the trikes up giving your Ice Dream Experience extra sparkle! and your wedding photographer plenty of opportunity to get creative.
Our ice cream Dream Sleigh for Winter or Christmas weddings is a unique and stunning wedding centrepiece. Checkout our festive fleet of trikes & carts on our Seasonal Events page.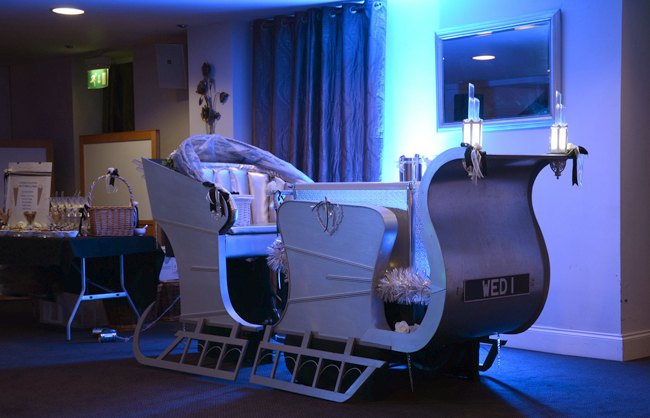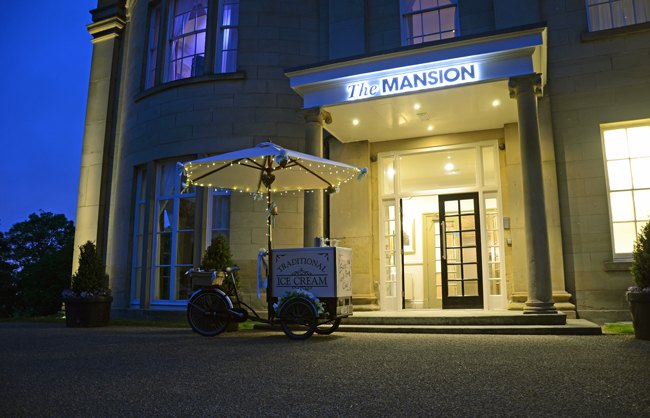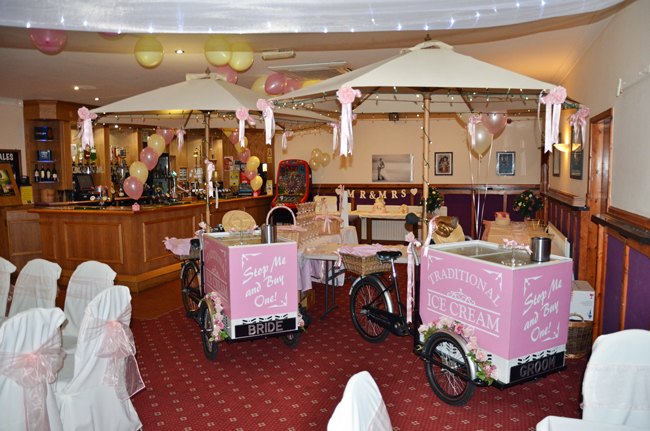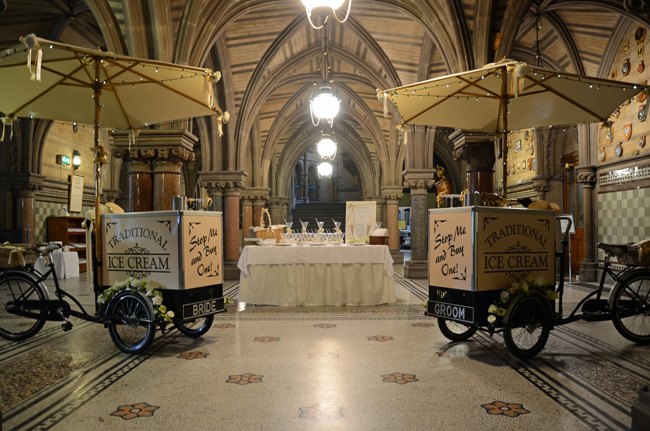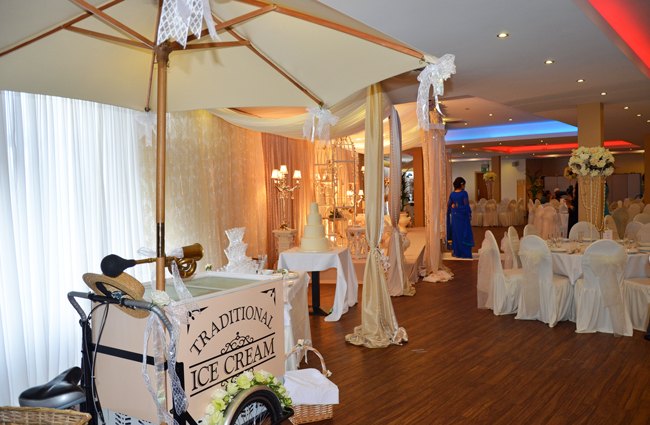 Asian Weddings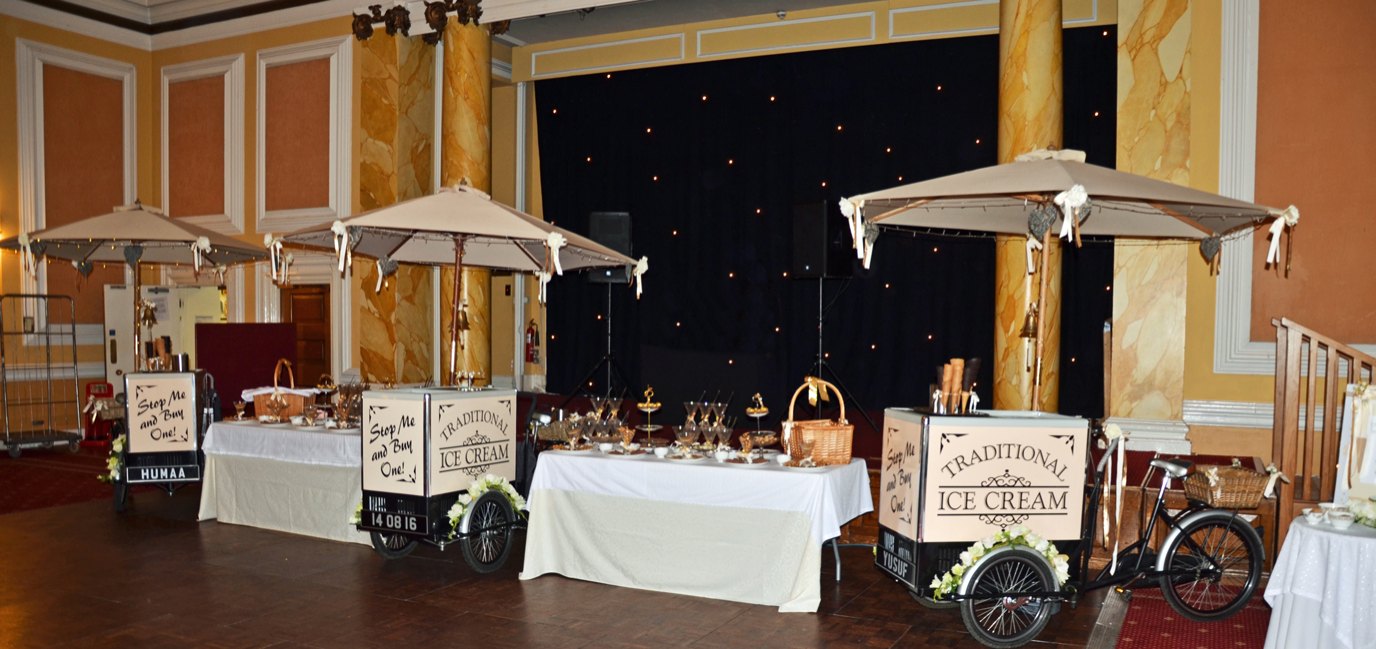 For weddings where guests numbers exceed 300 (ideal for Asian Weddings) we can provide several options. This includes bespoke packages too as in the above picture. Please contact us for further details.
LGBT Weddings


For our latest wedding testimonials please visit our Your Dreams page.
Find us on the County Brides Wedding Magazine & Wedding Fayres website.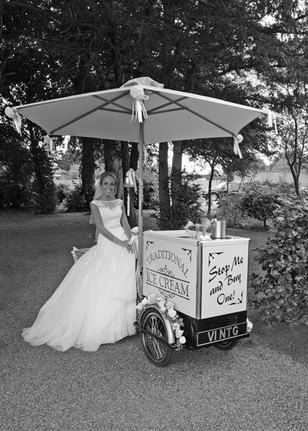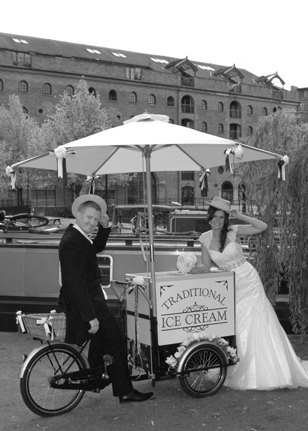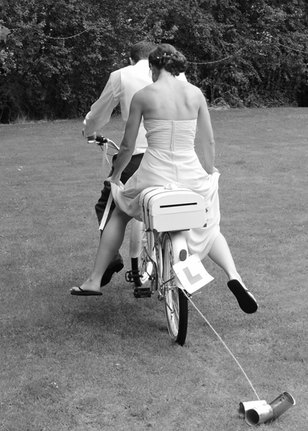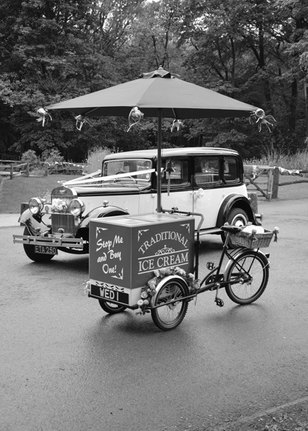 ---
THE VINTAGE EXPERIENCE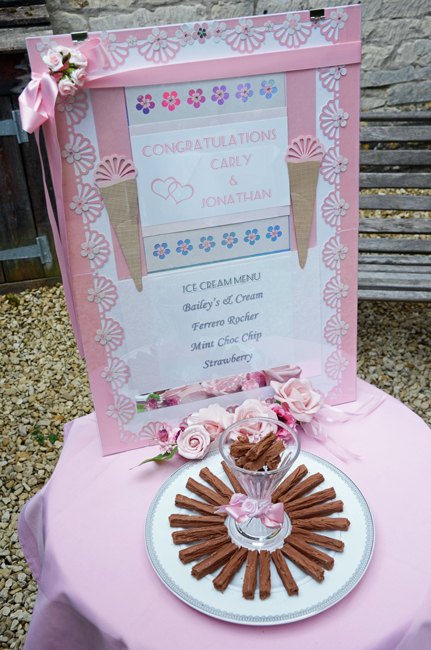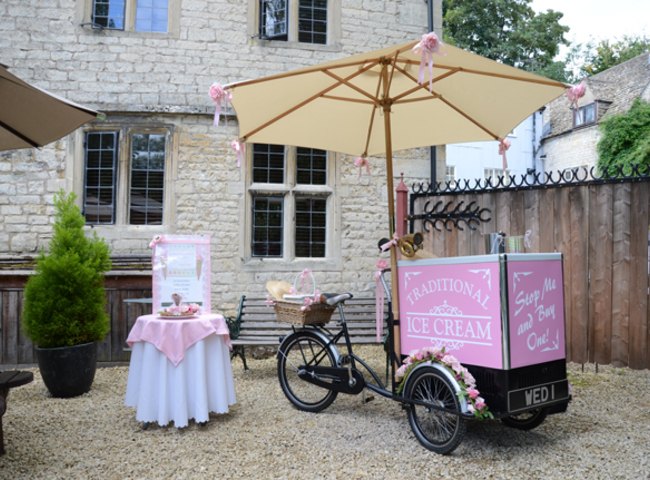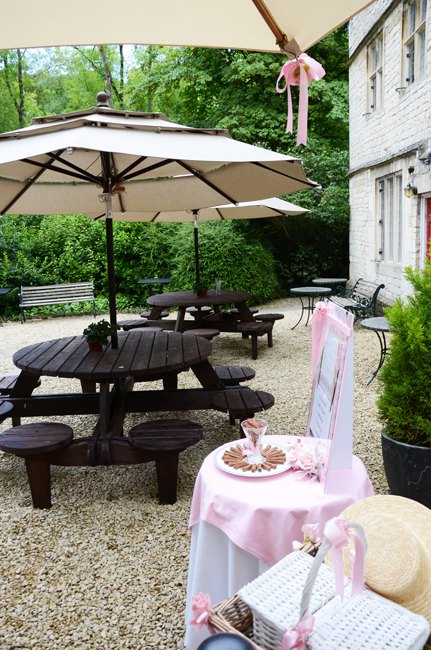 1 large scoop of hand made real dairy ice cream served in tall plain waffle cone with a chocolate flake.
Choice of 4 flavours of ice cream

Personalised Menu Board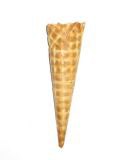 ---
THE TRADITIONAL EXPERIENCE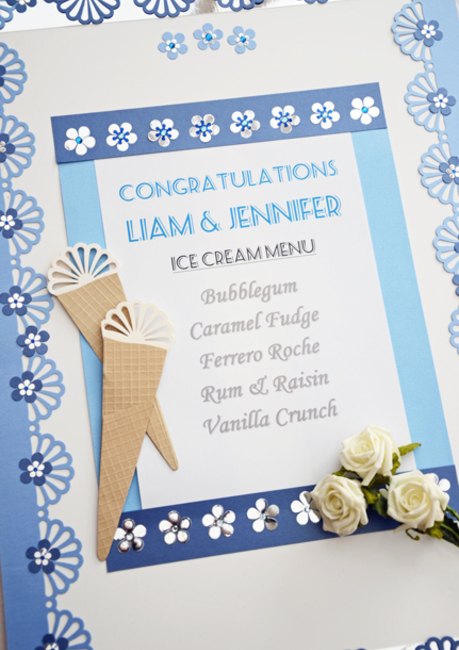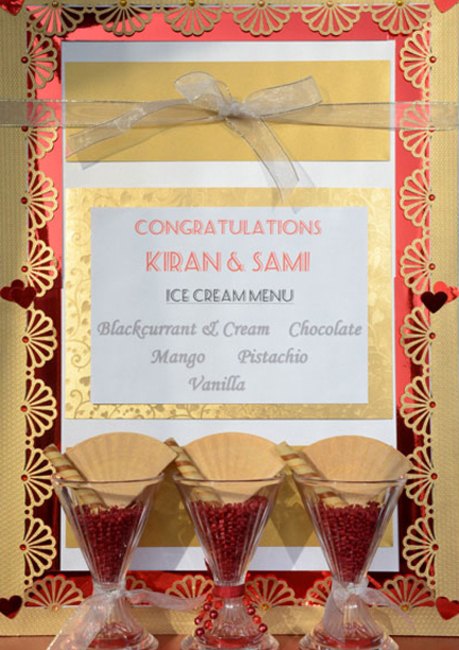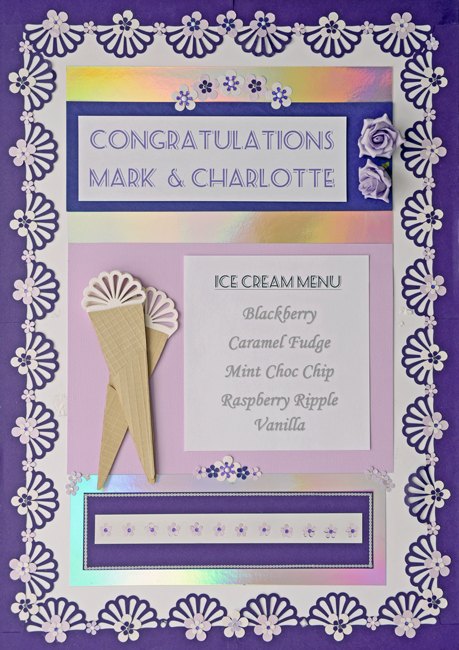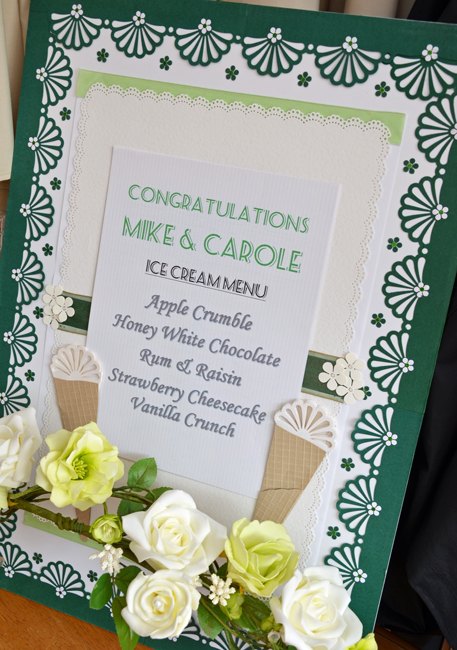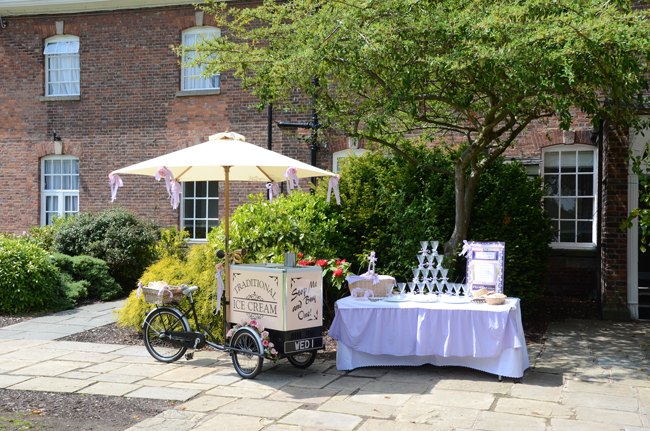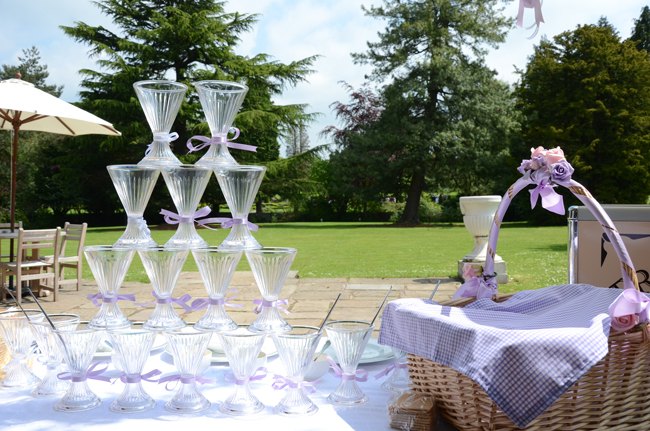 1 1/2 scoops of hand made real dairy ice cream served in tall plain waffle cone or chocolate dipped cone or 2 scoops in a decorated sundae dish.
Choice of 5 flavours of ice cream

Personalised Menu Board and Ice Dream Table with selection of sprinkles, toppings and chocolate flakes (self serve)

Chocolate dipped and plain cones and/or decorated sundae dishes to match your colour scheme making a fantastic display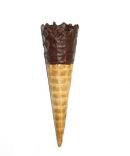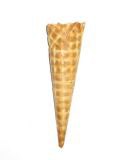 ---
THE WEDDING TANDEM EXPERIENCE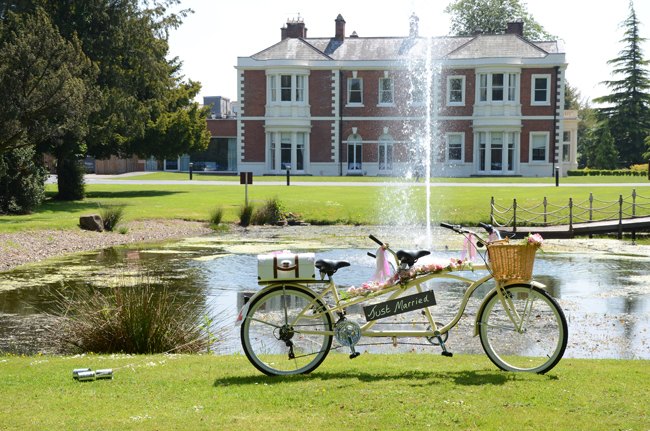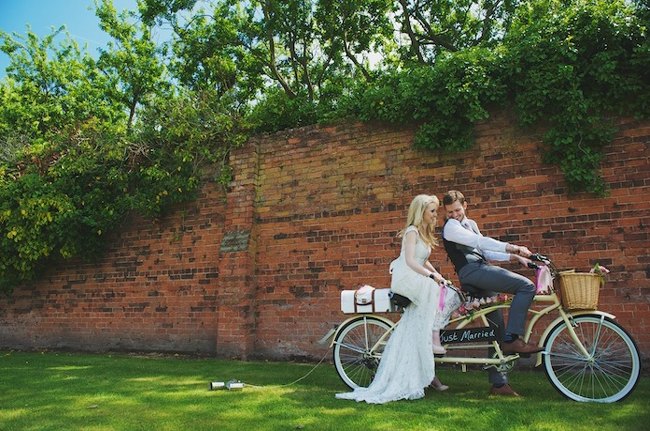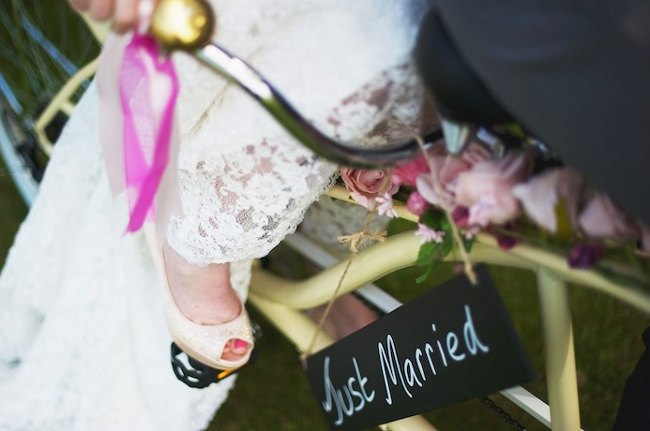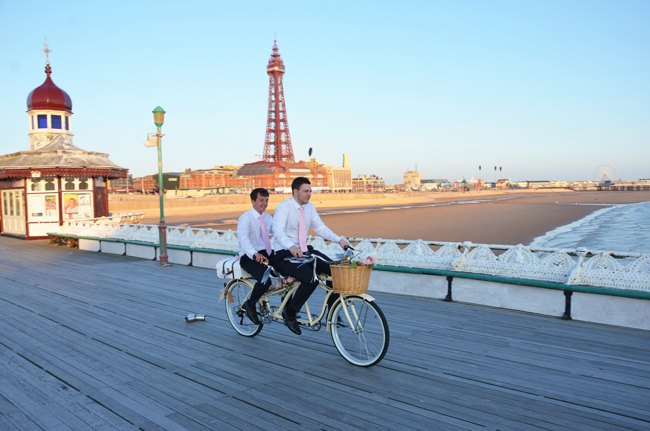 The 'Bicycle Built For Two' dates back to traditional times (not to mention that 'Daisy' song!). What better way to start your married life together than pedalling down the road of life! Our Wedding Tandem makes for great photo and video opportunities providing fun and entertainment for all the wedding party. Photographers love it, guests love it and you will too!
The tandem is decorated to match your chosen colour scheme. It also comes complete with traditional wicker basket, bulb horn, brass bell, 'Just Married' sign, 'L' plate and not forgetting the obligatory wedding accessory of yesteryear… tin cans on string!
Our Luggage Wedding Post Box offers a unique and novel way to collect your wedding post too!
Tandem Hire: From Only £75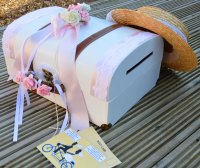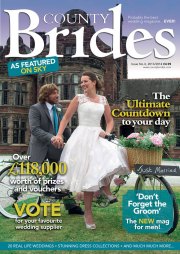 Price includes fully decorated Tandem to match your colour scheme together with Luggage Post Box. The luggage label with your names & wedding date on is given to you as a wedding souvenir / keepsake at the end of your hire along with your wedding post.
Right: Our Wedding Tandem featured on the front cover of Issue 6 County Brides Magazine.
Note: Hire of the tandem is for the same period as the ice cream tricycle hire. If you require the tandem separately e.g. Hiring transport for groom and best man, or special photo shoot, please contact us for pricing and availability.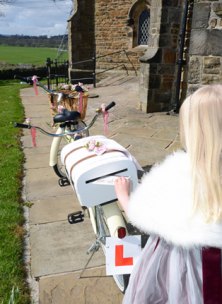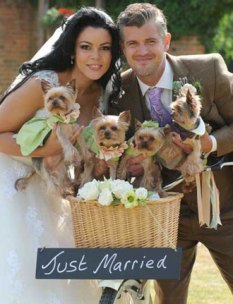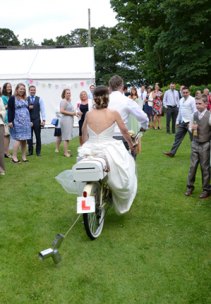 Above Middle: Louise Harris & Dan Hill's wedding day had it all. We even served their four Yorkshire Terriers ice cream in mini-cones after posing for this pic with our tandem!
---
Wedding Ice Cream Serving Times
Serving times are 2 hours for each Experience. This gives plenty time for everyone to be served and for couples to have photographs taken with the tricycle if they wish.
Why Choose The Ice Dream Experience?
Our testimonials and reviews speak for themselves. However, if comparing us with other similar companies, please bear in mind we are able to offer a choice of coloured tricycle and can provide more tricycles for larger guest numbers. We have over a decade of providing a professional catering service to the highest level and are passionate about what we do.
We only use quality products and do not use inferior wafer cones or flakes. For our Traditional Experience we include choc dipped waffle cones which naturally are more luxurious.
All our bikes/carts/trikes are completely unbranded with no logo's or contact details displayed. We treat your wedding as exactly that – Yours! and not an opportunity to advertise. Our authentic decoration, attention to detail and presentation are carefully thought out and coordinated ensuring you get a truly great memorable experience.
We also offer a bespoke Wedding service so if you wish to create your own Ice Dream Experience we are happy to discuss your individual requirements. We want Your Dream to come true – so please, just ask!
Out of Area Surcharges
As we cover the whole UK, a fair and reasonable surcharge may need to be added for some locations. This would include additional diesel costs, congestion charges, road/bridge tolls etc.
Terms
A non refundable deposit of £50.00 per tricycle is required to secure your booking. The remaining balance is then due 30 days before your wedding.