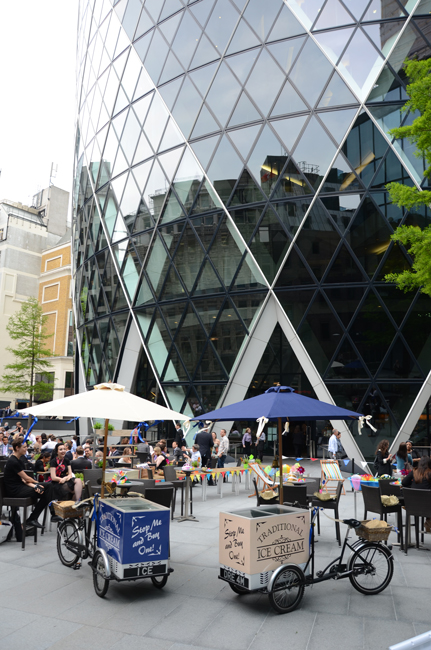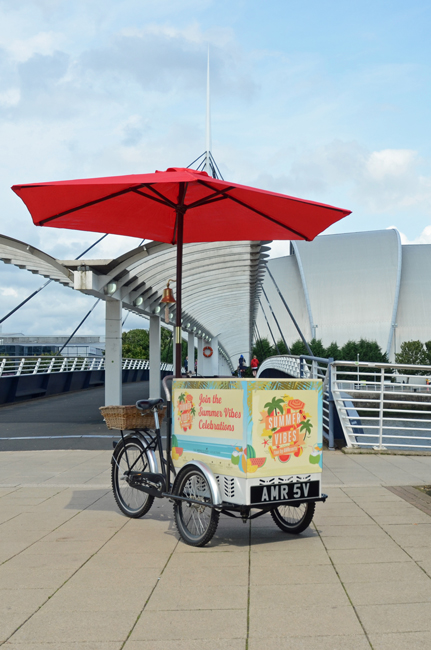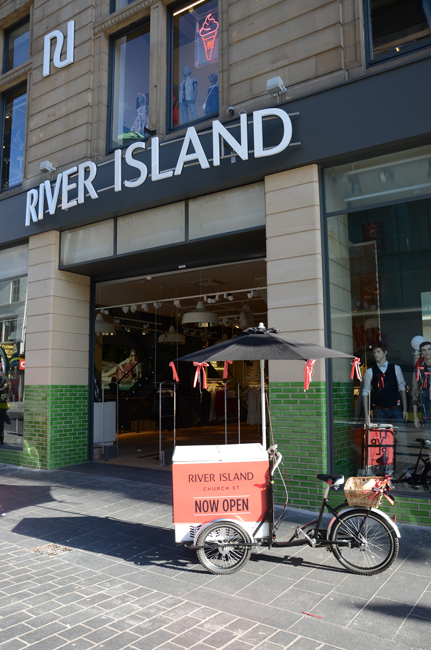 Our aim is to exceed your expectations of us. Our operations are well planned with full risk assessments provided and contingency plans in place for poor weather. Our operations are self sufficient with no requirement for any ongoing support from event organisers or venue officials.
In addition to our fleet of tricycles, we have a range of high quality event tents, tables, chairs and benches to facilitate/support a variety of outdoor corporate events, exhibitions, away days, team building events and new product launches. We have a proven track record of providing a first class service to our clients which result in a high degree of repeat business.
Each tricycle can be easily corporate branded if required to maximise exposure to existing, new and future customers. Couple that with the great mobility of our bikes then your marketing campaigns or new product launches can really go places! Our eco friendly tricycles are small enough to be located in strategic positions virtually anywhere yet big enough to raise immediate interest. Our trikes can operate as 'dry' units, fridges or freezers enabling them to carry anything from heavy catalogues & leaflets, corporate branded gifts, to chilled food and drinks and of course ice creams and ice lollies.
Below: Samsung HQ – Customer Service Operations Team 2018; Touring Sky Call Centres across England, Scotland & Wales.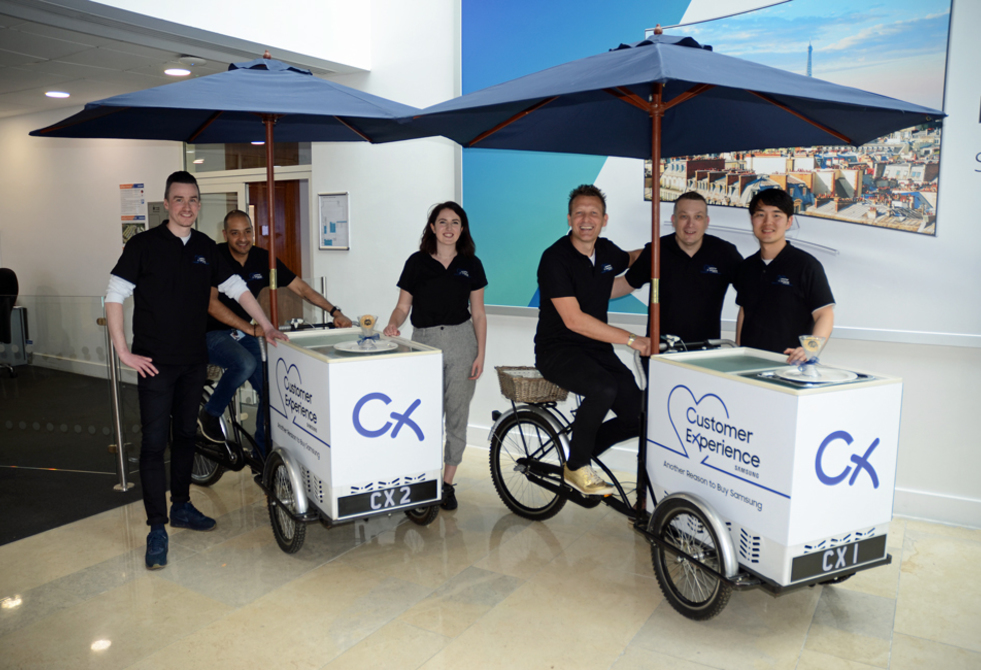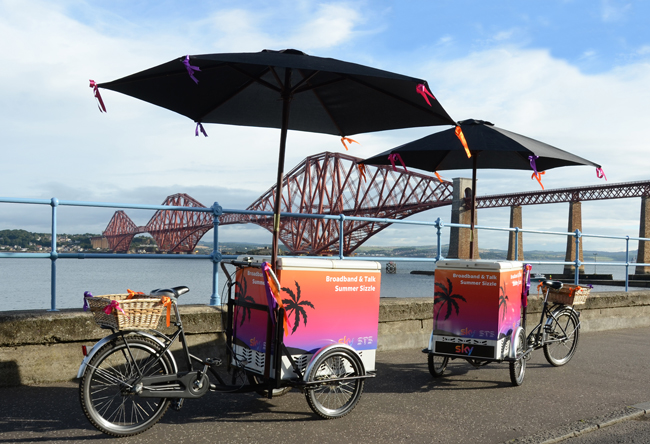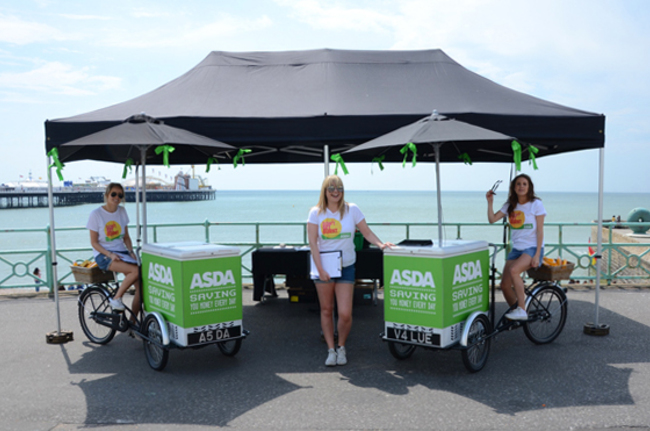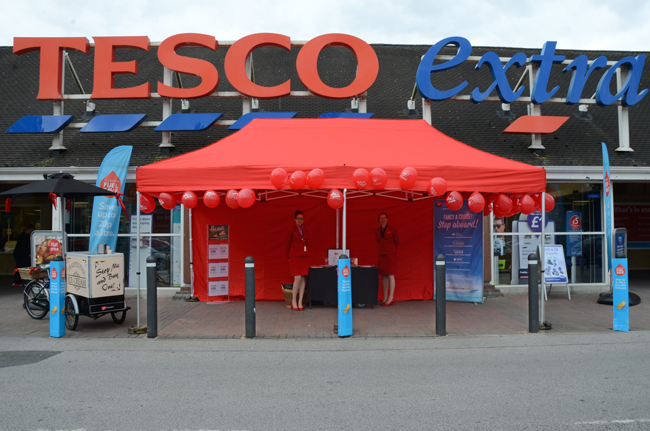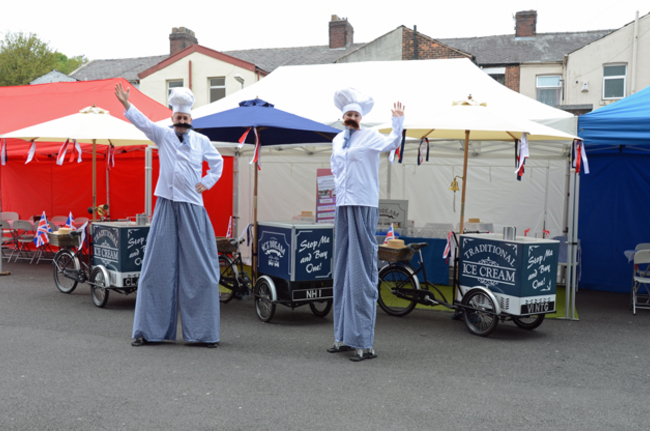 Above: Asda Summer Campaign, Brighton; Virgin Holidays Promotion at Tesco, York; Nigel Haworth's Fantastic Food Show.
To ensure everything runs seamlessly on the day, we work in partnership with all our clients and where appropriate, venues too. Safety is paramount in ensuring your event is a success and all our bikes and equipment are regularity inspected, maintained and tested where appropriate.
So, whether it's a getting your products into communities, arranging team events, away days, attending exhibitions and conferences or holding a staff BBQ / Hog Roast, why not think 'outside the box?' and let us provide a unique attraction to your event that's hassle free, tasty and one that really gets people talking!
All our corporate clients receive a bespoke service due to the fact events can be so diverse. If you would like a quote, please complete the short enquiry form on our Contact Us page stating 'Corporate' in the Ice Dream Experience Preference field.
Brand Awareness Raising & Promotions
To maximise your brand awareness we get your brand out there engaging with your target audience. Our tricycles are proven to grab people's attention and can safely be positioned in high footfall pedestrian areas or other indoor/outdoor areas where large trailers or motor vehicles are prohibited. All our clients receive a full risk assessment document in advance of their event/activity to satisfy local authorities and/or event organisers.
Below: Berghaus at Keswick Mountain Festival; Singapore Airlines & Manchester Airport promo in Manchester city centre.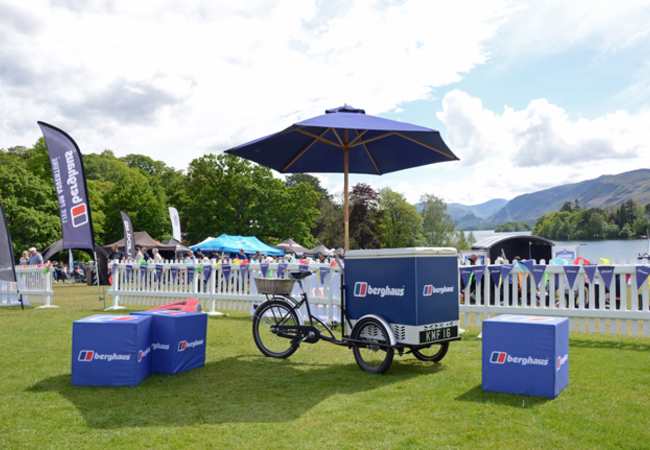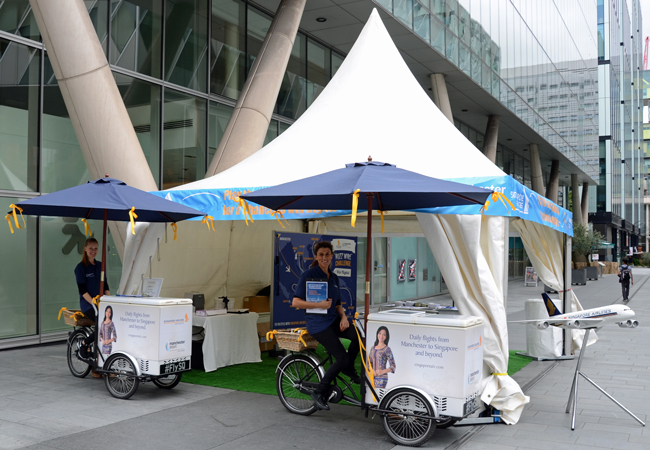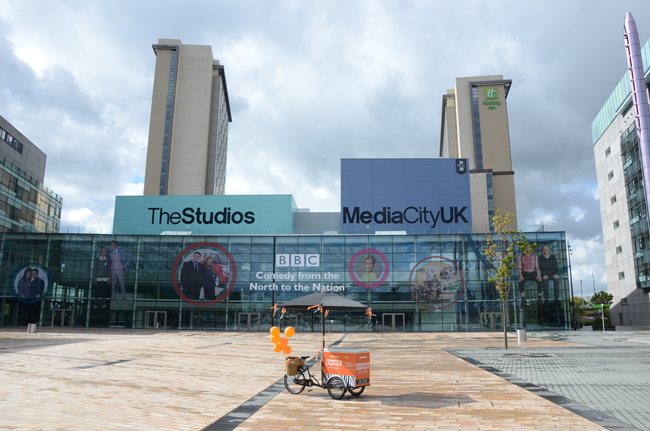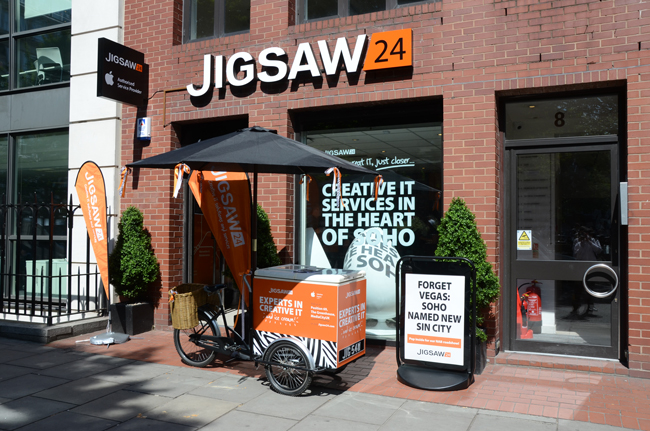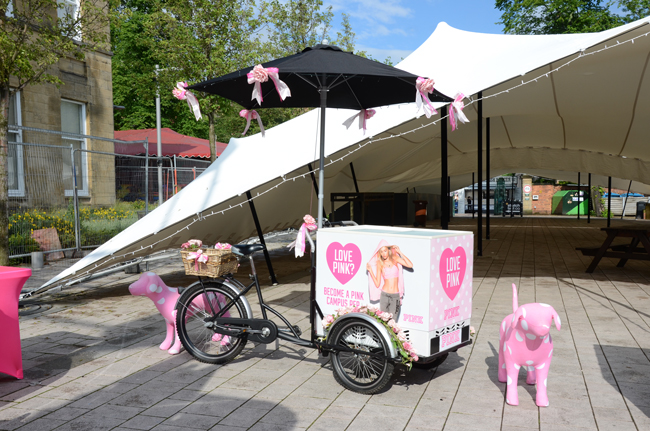 Above: Jigsaw24 NAB Roadshow at MediaCityUK & Soho, London; Victoria's Secret Promotion – Leeds University Summer Ball.
Exhibitions
Struggling for unique exhibition ideas? Do you want to attract people to your exhibition stand? Why not draw in your audience with some of the finest corporate branded ice cream?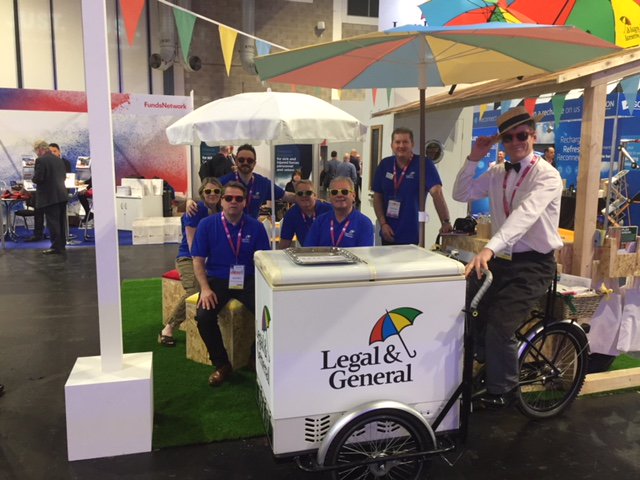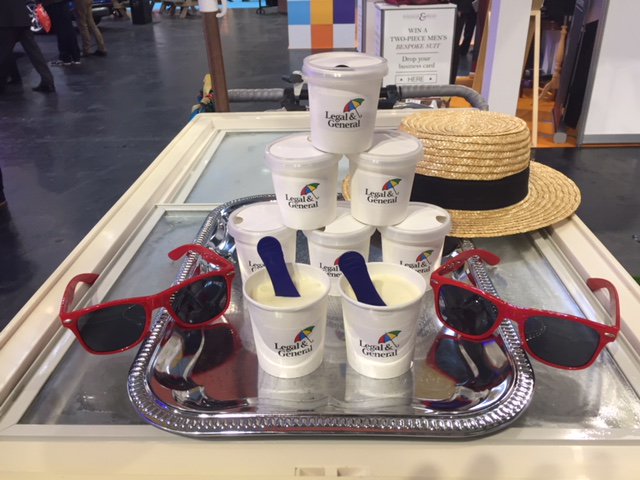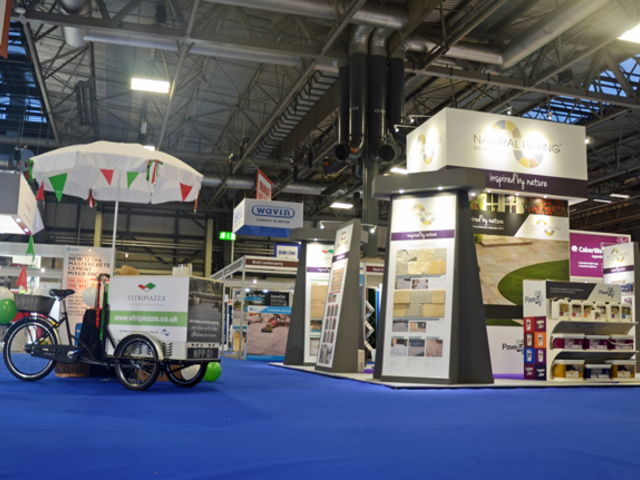 Above: Festival of Financial Planning 2017, Birmingham NEC; Natural Paving Products at Jewson Live 2016, Birmingham NEC.
Below: Zoetis at Liverpool Exhibition Centre; Capita at CIPFA, Manchester Central; Air Products at Foodex, Birmingham NEC.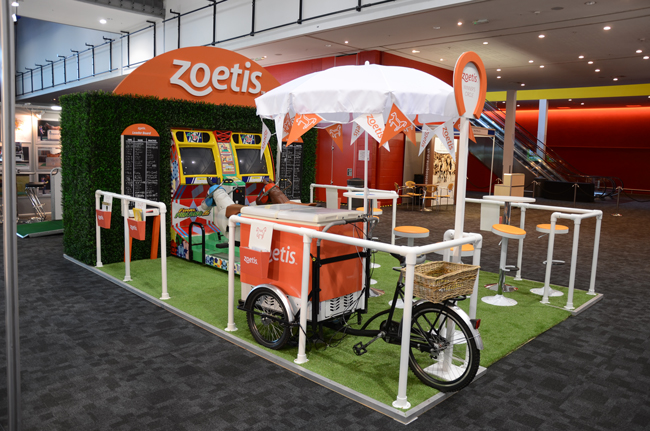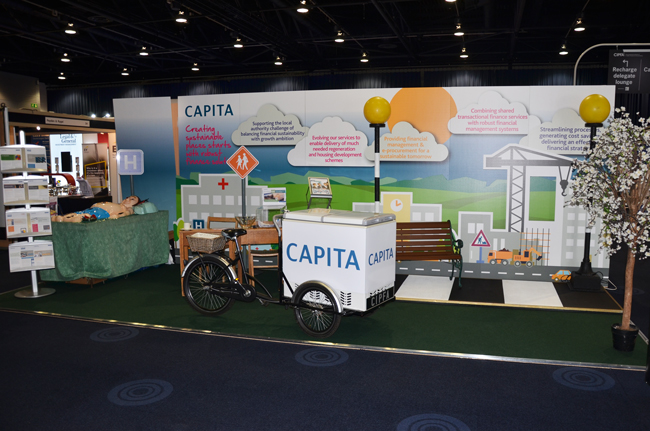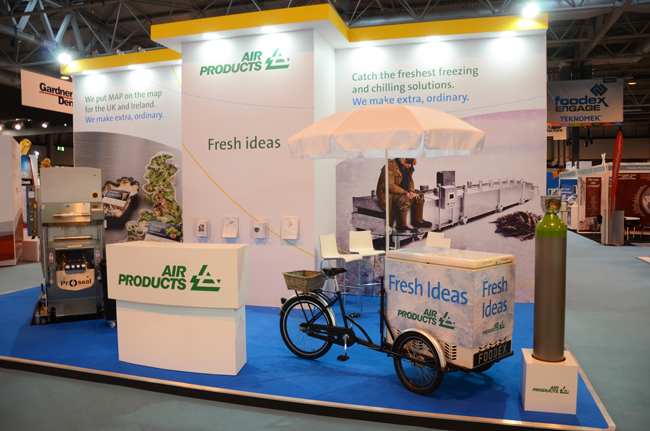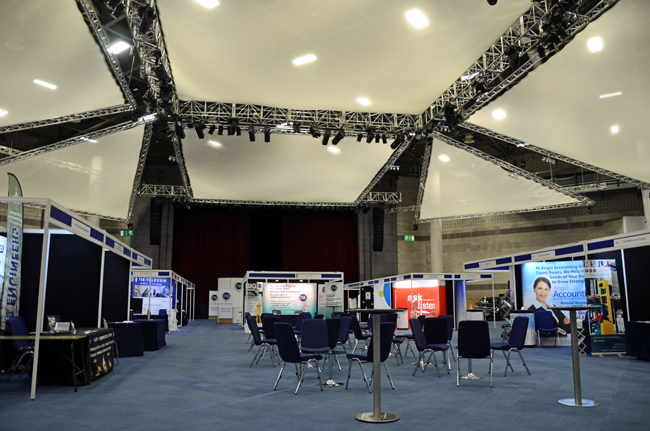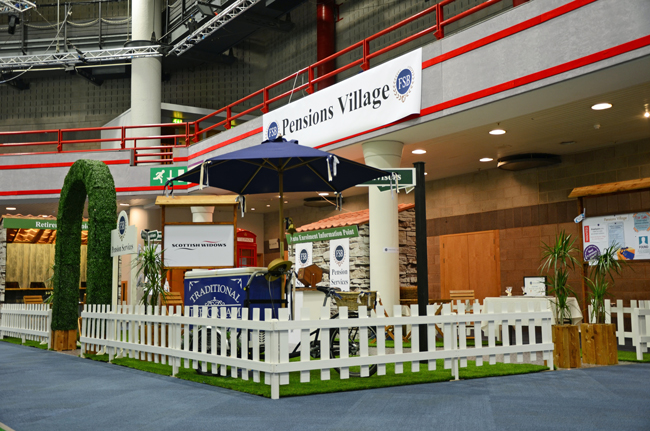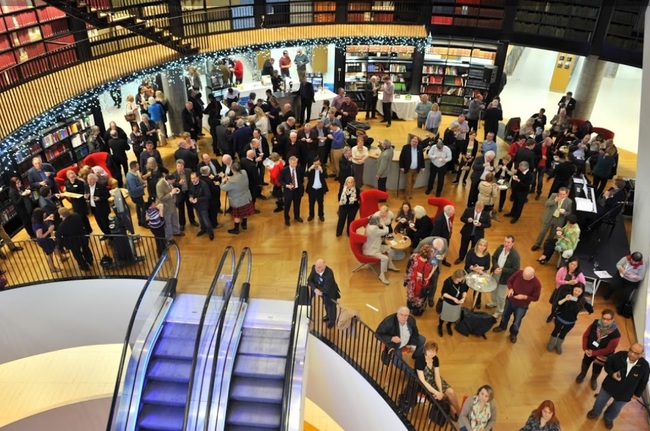 Above: FSB Small Business Expo and National Conference, Birmingham ICC.
Our tricycle pictured above in FSB corporate colours formed part of the impressive Scottish Widows exhibition stand, part of the Pensions Village. With complimentary ice creams on offer, conference attendees didn't need much tempting to enter the stand where they could also digest specialist advice from independent financial services and pension experts!
New Product Launches, New Store Openings
Below: On tour with Sony as they launched their new Xperia Smartphone across England, Scotland & Wales.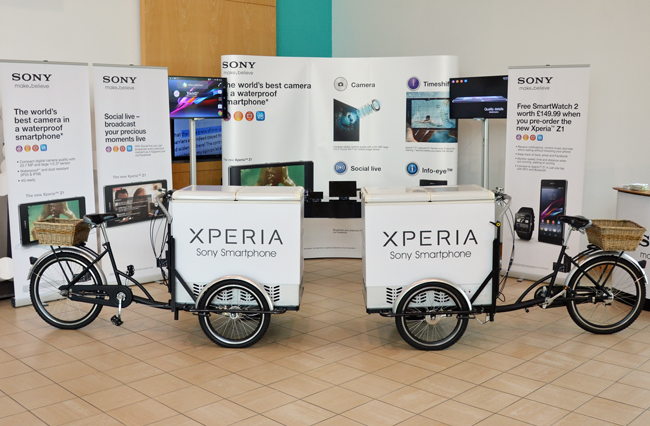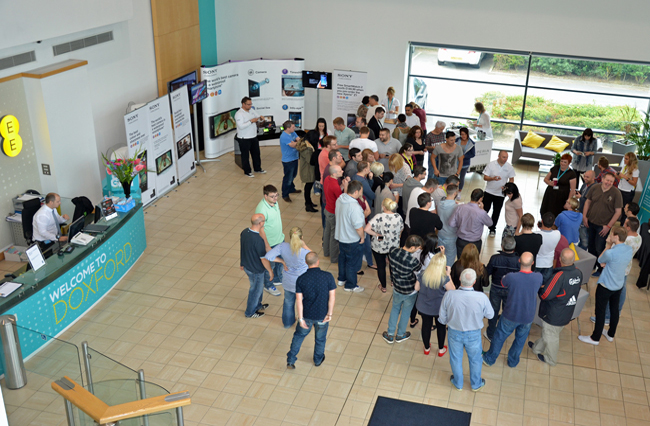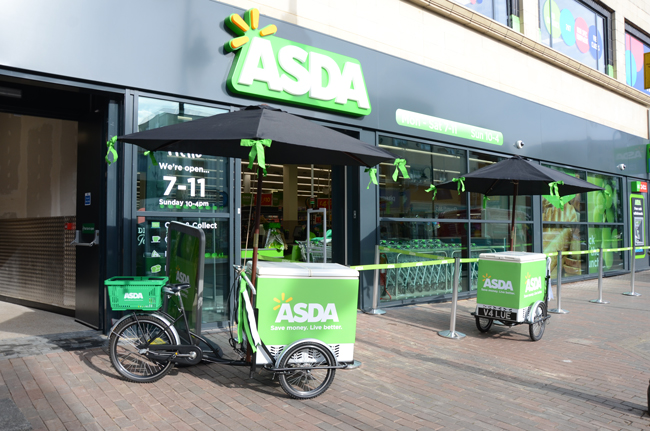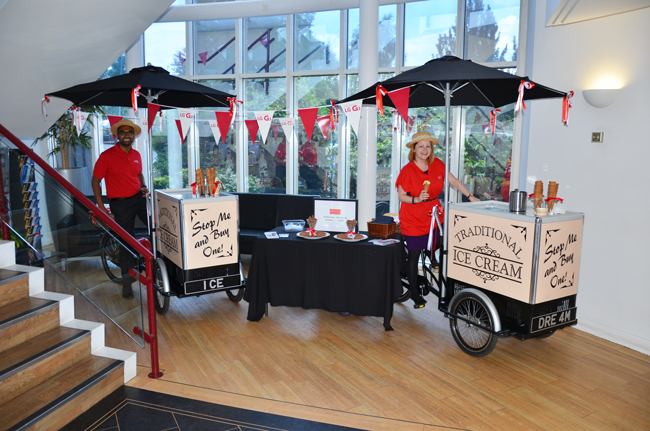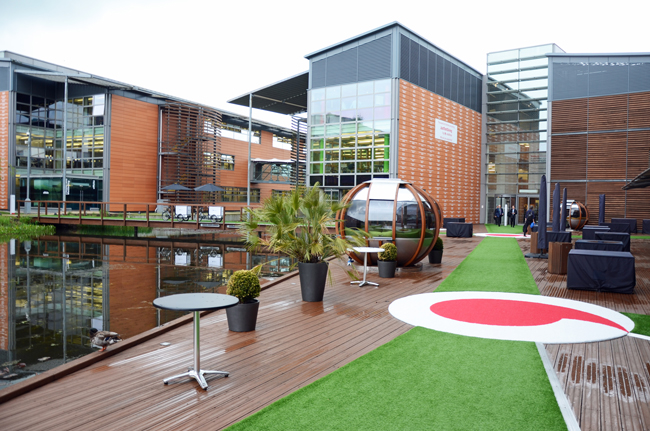 Above: Asda new store opening at Wealdstone, London; LG Smartphone Launch; Huawei Smartphone Launch at Vodafone HQ.
Team Building Events & Corporate Away Days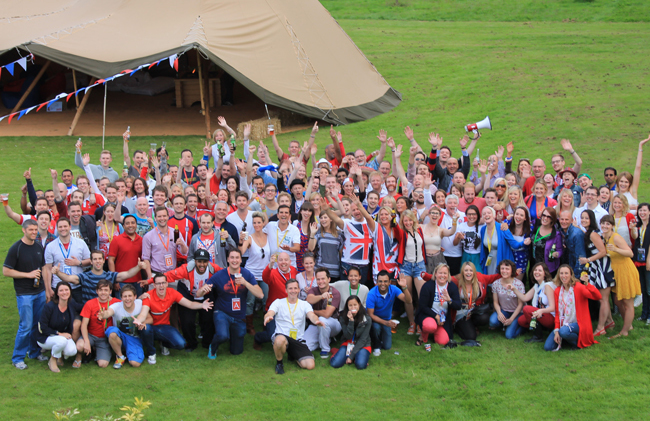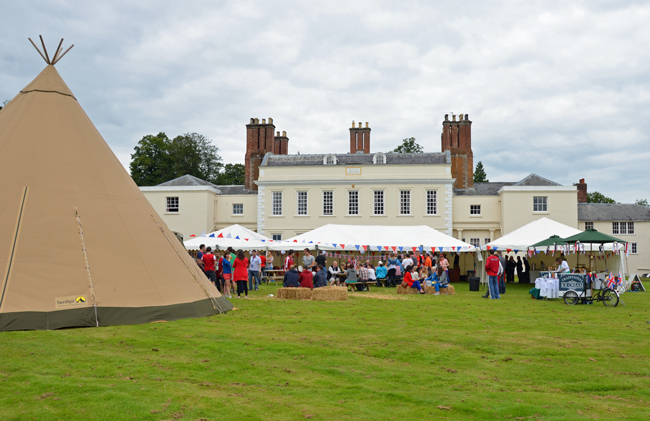 When attending full day corporate events/away days in remote locations our tricycles are not reliant on mains power providing limitless opportunities when planning your event if spread over a wide area. Being fully mobile and 'pedalling' ice creams was no more evidently demonstrated above at Haughton Hall deep in the Shropshire countryside at a Team Building Event. Two of our Ice Dream Machines were able to provide some welcome refreshment to everyone throughout a full day of fun and games held at various locations in and around the Hall's estate.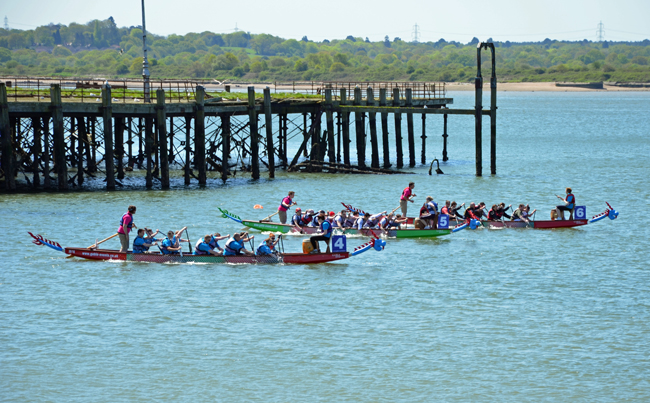 Pictured left are Corporate Teams enjoy an afternoon's Dragon Boat Racing on Southampton Water in some warm summer sunshine before enjoying some well earned ices from our ice cream bikes! In fact proving that The Ice Dream Experience do 'go the extra mile', when one of the team 'dipped-out' of a qualifying heat one of our Ice Dream Representatives came to the rescue by temporarily jumping ship from ice cream bike to dragon boat and helped the Team paddle their way to their fastest heat of the day!
Reward & Recognition, Summer BBQ, Christmas Parties
Planning an Office Party? Summer BBQ Party? Corporate Fun Day? Christmas Party? or do you just want to say 'Thank you' to your employees with a surprise visit from us one afternoon at your workplace?
Below: Dr. Oetker Summer BBQ in the great outdoors of Yorkshire; Chamber of Commerce President's Summer Ball.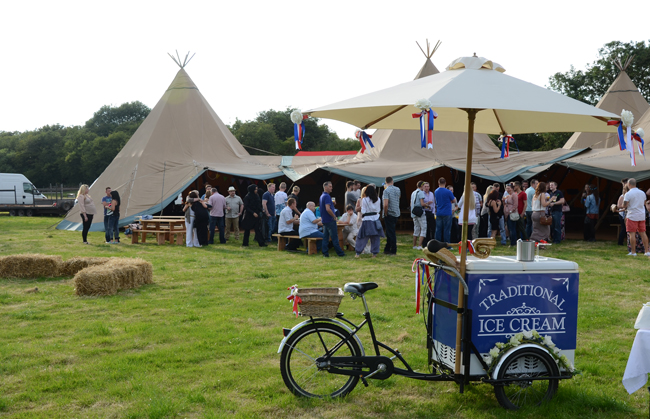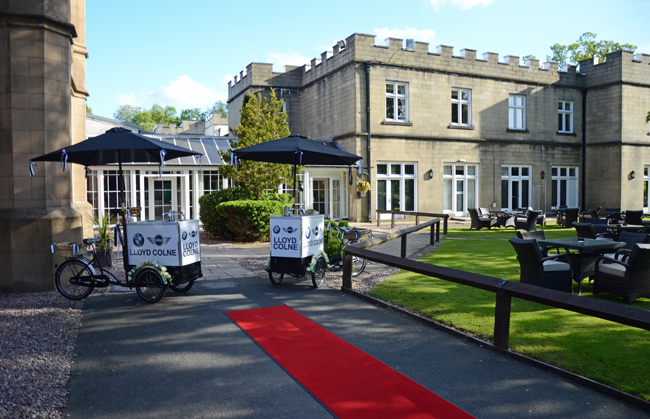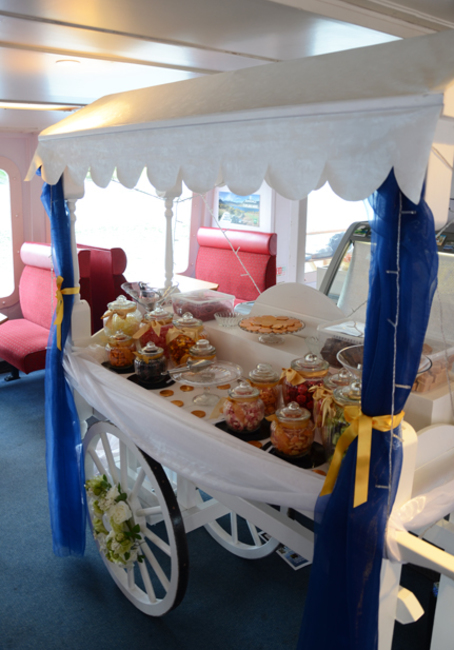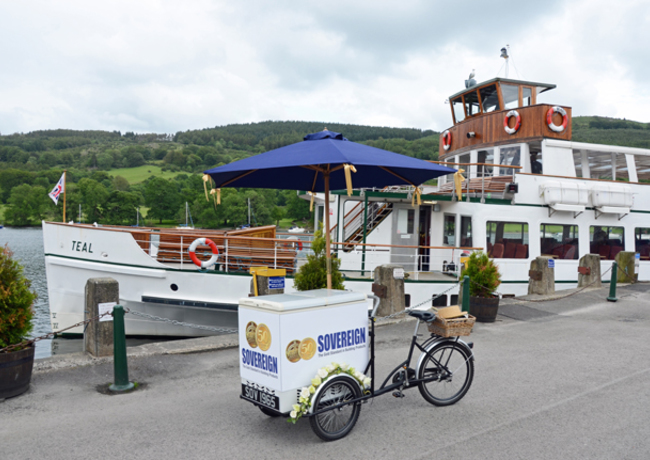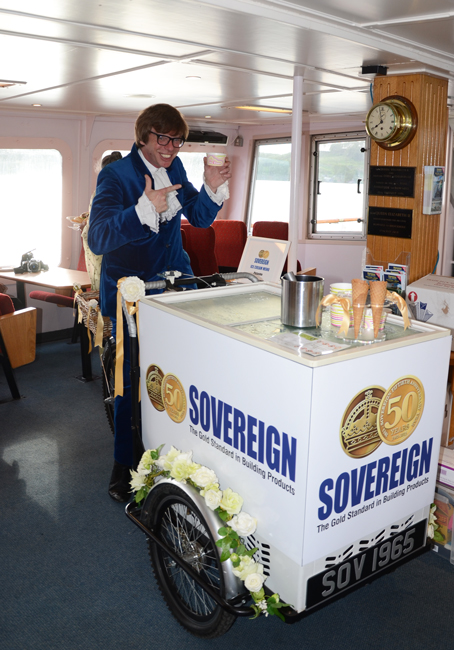 Above: Our Traditional Candy Cart & Ice Cream Trike on board the Lakeland Steamer 'Teal' for a 60s themed corporate party.
We make a great 'Reward & Recognition' surprise all year around but especially as a mid summer or Christmas office party time treat. We've even got an Ice Cream Sleigh trike – the only one of its kind in the world! So if you are planning a Winter Wonderland theme party or just looking for unique Christmas Party ideas then our Ice Dream Sleigh could be the answer.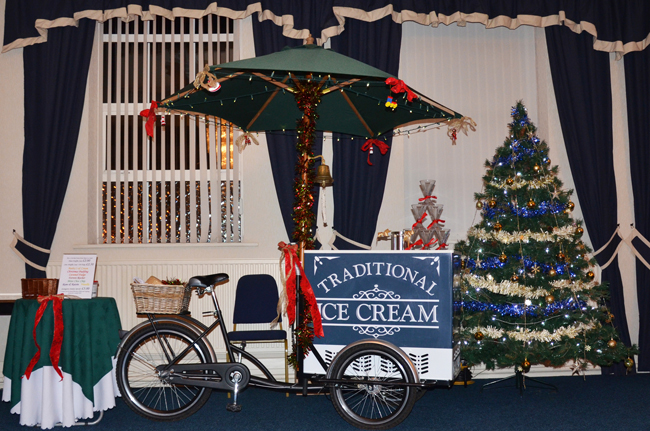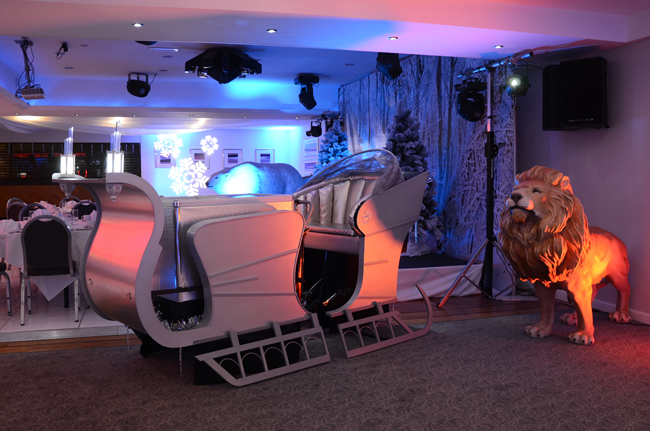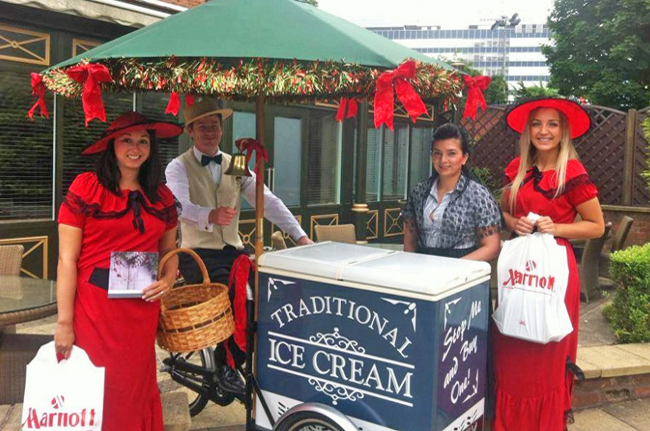 Of course we all know Christmas Party venues can get booked up early so we also provide some innovative support for festive marketing campaigns. We have worked with clients such as Marriott Hotels, DeVere Hotels and Best Western Hotels in delivering effective pre Christmas awareness raising initiatives.
If planning an evening event, we often serve right into the night and have also been known to cycle into function rooms to surprise everyone whilst that classic tune we all know from old as 'Just One Cornetto!' fanfares our grand entrance!
Television & Media
Our tricycles can be used as film props and/or active serving units, static or mobile. We can transform the look and style of each trike quite easily to whatever is required and optionally trim up to suit any theme.

Above:Jamie Oliver's Restaurant, London – Filming Christmas TV Ad for Woolworths during which we served ice cream to the 200 extras on-site; BBC North West Tonight visiting locations across the region prior to the EU Referendum, Jun 2016 – See our Blog page for further info.
Misc Events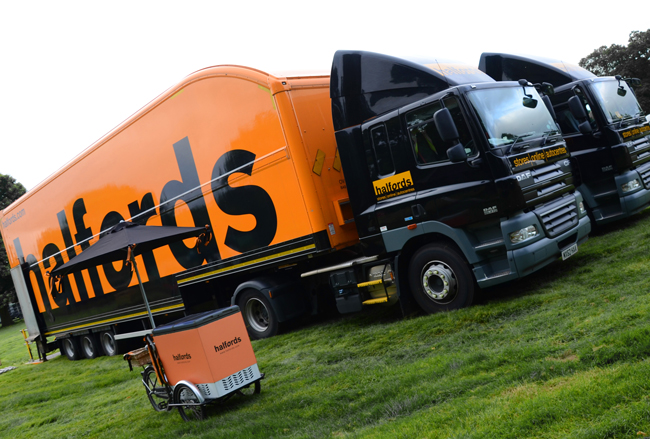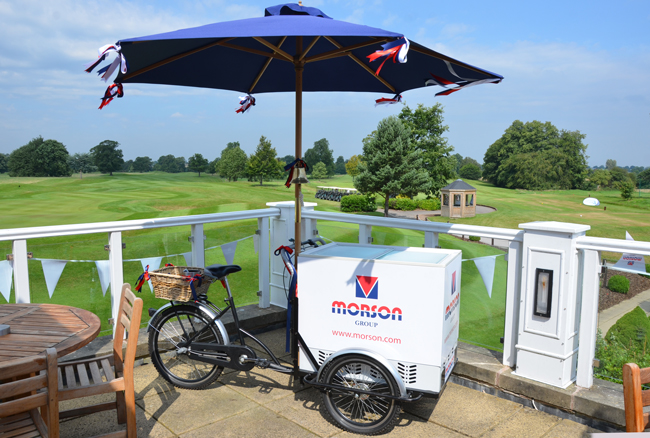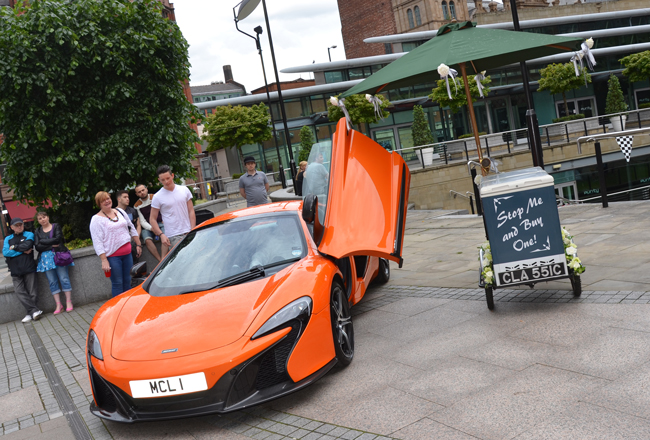 Above: Tour De France Special Stage, Leeds; Sir Alex Ferguson Golf Classic; James Martin's Supercar event, Manchester.
What Our Clients Say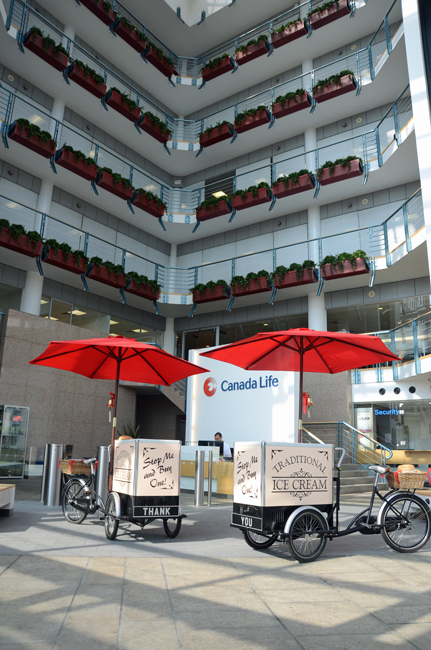 'The Ice Dream Experience made our Reward & Recognition event at Canada Life an enjoyable experience for all staff. The team made extra efforts to ensure the event was a real success.'
They were also extremely hard working and made the experience very easy! And of course the ice cream was absolutely delicious! Would highly recommend their services!!'
Sara Gellard, Internal Communications and Engagement Partner,
Canada Life, Maple House, London
---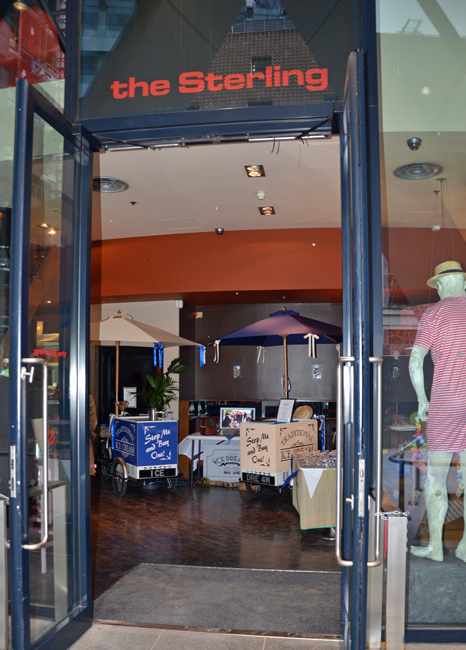 To view a short promotional film produced by Late Night London featuring The Ice Dream Experience please click on the following link:<http://www.youtube.com/watch?v=I7
'On behalf of all the Late Night London Team, I would just like to say thank you for being part of our 'The Seaside In The City' showcase events at The Sterling – we really did enjoy The Ice Dream Experience! We've had some great feedback from the agents and clients. Very best wishes.'

Georgina Coleman
National Account Manager, Late Night London
---
'…you were an absolute pleasure to work with for the re-launch of River Island Liverpool Church Street. The ice cream trikes were a key element to driving footfall to the store, and did so in an extremely effective and novel way. Not only did they look great, but the ice cream tasted delicious. More importantly, your Team delivered exceptional service throughout the day engaging with the public in an enthusiastic and pleasant manner, as well as ensuring that all key marketing messages were conveyed. Thank you for your great service.'
River Island Marketing Team,
London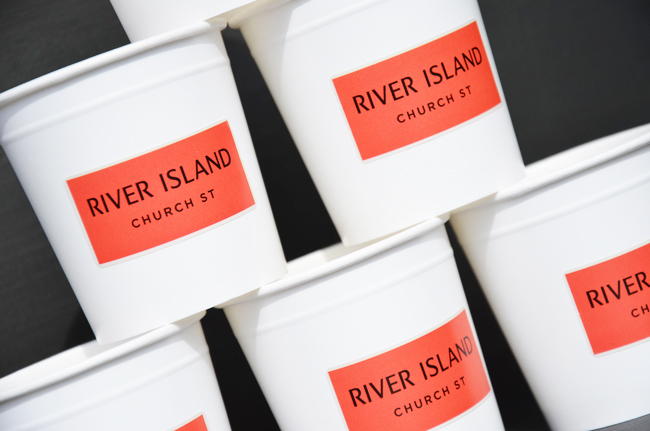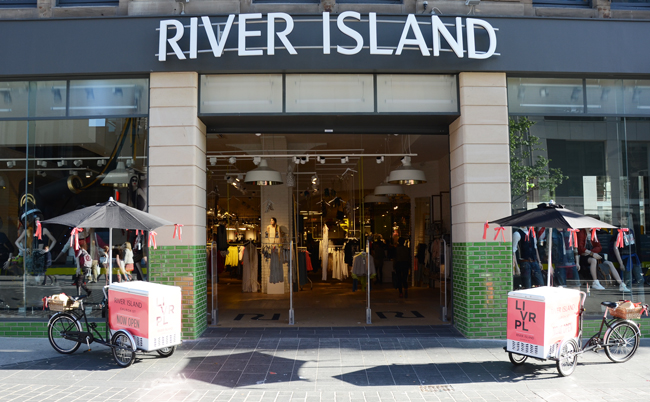 ---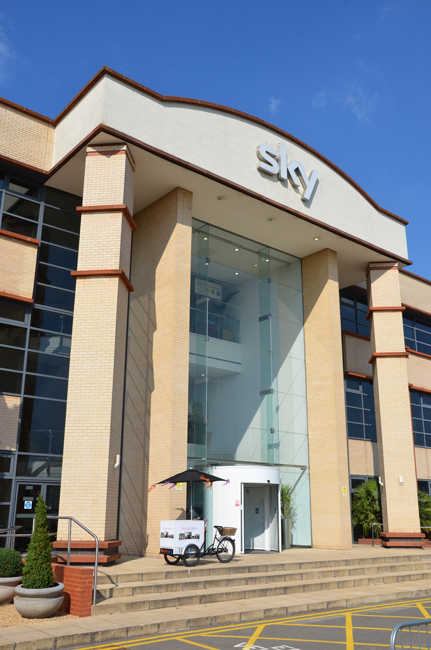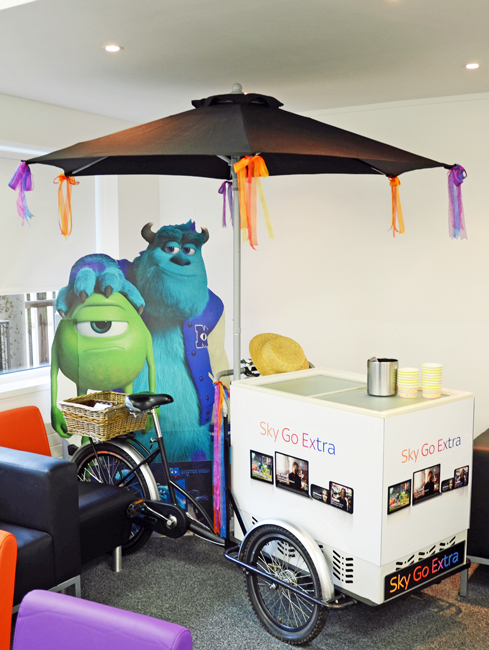 'Once again a massive thank you for the different events, they were a massive success and really well received – everybody loved them.'
Holly Hanscott Account Executive, tpf the promotions | the publicity factory, London

---
'A big thank you for helping us deliver first class events in MediaCityUK and Soho last week! We loved the branded tricycle and it certainly generated a lot of interest. Everyone loved the ice cream and we're already looking for an excuse to break it out again.'

Jigsaw24 Marketing Team, Nottingham
---
'Thank you very much for all your help with the exhibition project. The stand was a large success and we are very grateful for all your help. It has been a very easy process doing business with you.'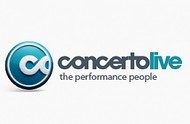 Nenah Favelle,
Director, ConcertoLive
Scotland
---
'The Ice Dream Experience are a reliable and personable company, their ice cream tricycles were very popular with our guests, the perfect treat served in a charming style that's adaptable whatever the event. They also provide great service and flexibility. All our guests were very well looked after and thoroughly enjoyed the experience!'

Natalia Hollingsworth
Managing Director,
Golborne Events, London
---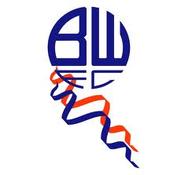 'I would like to congratulate The Ice Dream Experience on your first class event catering services at the Bolton Wanderers Staff BBQ & Family Fun Day which was held at our Team Training Academy recently.
Your organisation, presentation and professionalism in setting up your temporary marquee Ice Cream Parlour within the Academy ground and serving our 400 guests on the day was excellent – as was the ice cream.'
Owen Coyle, Manager – Bolton Wanderers Football Club
---
We work together providing innovative solutions for Corporate Promotions & Events nationwide making each and every one successful, memorable and fun! Here's just a small sample of the feedback we received from our work for Asda.
'Lovely to work with you, it was a good day with plenty of sales'
'Thanks for all your support, it made the day really enjoyable'
'Thanks for the great activity this weekend'
'It was a fantastic day – thank you'
'Thanks again for an amazing job, the praise has been rolling in from Asda, which is great!
CPM UK Team, Leeds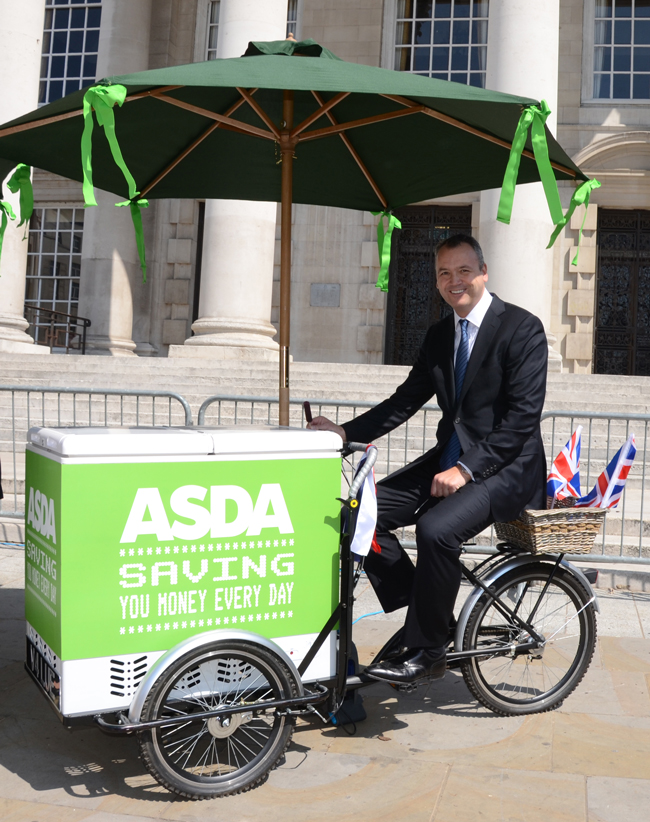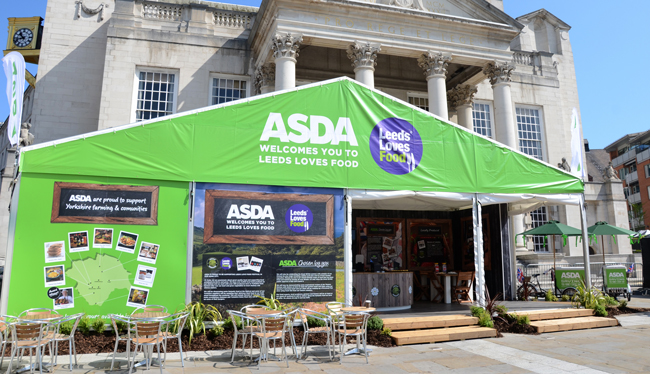 Above: Andy Clarke, Asda President & CEO at the Leeds Loves Food Festival. A flagship event over 3 days sponsored by Asda
Below: Asda HQ's home event attracted record crowds of over 40,000. Ice lollies were in high demand as temperatures soared!