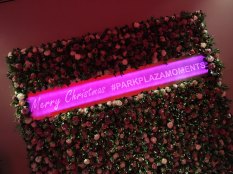 The Radisson Park Plaza, Leeds played host to a large corporate client holding a residential course over a number of weeks for some of their global employees.
To mark the completion of the milestone event and to thank employees for their participation, guests were wined and dined in style with a gourmet buffet.
For dessert, guests enjoyed our luxury Corporate Ice Cream Service served from one of our trikes several floors up overlooking the city skyline and Christmas lights.