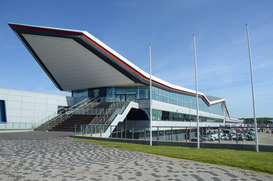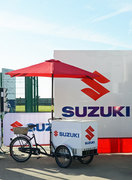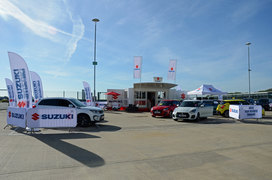 Suzuki, a relative newcomer to the fleet car sales market firmly held its own against other car manufacturers at the showcase event that was Fleet Show 2018. Billed as the greatest show in fleet, the event was an opportunity for key decision makers in the fleet industry to test drive vehicles around the iconic Silverstone grand prix circuit. Suzuki brought all their latest fleet models to the show but it was the Suzuki Swift Sport that took No. 1 spot for the most test drives on the day for the company.
Our tricycle didn't break any lap records but was a very popular attraction driving footfall into the Suzuki exhibition stand over the lunchtime period. We were also on hand all afternoon so test drivers were able to cool down Ice Dream style after undertaking their 'hot' laps!
We'll be supporting Suzuki again next month on 12th & 13th June when they exhibit at Company Car In Action at another famous motoring venue – the Millbrook Proving Ground in Bedfordshire, home of the 'High Speed Bowl' – a two mile banked circuit normally used for high speed testing.