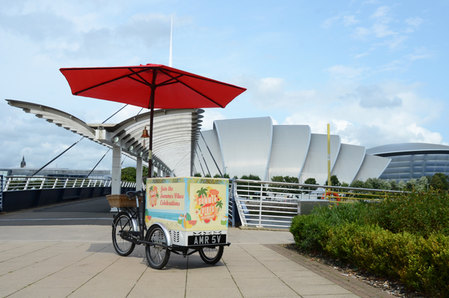 This month saw us join the AM Resorts Team for their Summer Vibes UK marketing campaign. The events were by invitation only to travel industry professionals and raised awareness of AM Resorts new products and services across their 5 star luxury resorts around the globe. Lots of fun, selfies and a live Caribbean Steel Drum band together with great food and of course great ice cream ensured each event was very well attended.
Our
tricycle pictured above is outside the iconic Armadillo Scottish Event Campus shortly before kicking off the AM Resorts UK tour on the roof top te
rrace of No.29 Private Members Club, Glasgow. The tour then took us to the roof top terraces of Great John Street, Manchester; The Vermont Hotel, Newcastle; 30 Euston Square, London with visits to Birmingham Botanical Gardens and South Lodge, Horsham and a return visit to Glasgow along the way.
The
most popular flavours of ice cream throughout the tour were Coconut & Lime closely followed by Mango & Passion Fruit; both of which were specifically included on the AM Resorts Menu to match the luxury, exotic, tropical theme.